Op deze pagina vind je een overzicht van de beste duurzame producten. Duurzaam winkelen was nog nooit zo makkelijk.
Bekijk ook: duurzame cadeau's en boeken over duurzaamheid.
We hebben de beste producten op een rij gezet, maar deze lijst is bij lange na nog niet af.Dus kom gerust snel terug!
Wil je nog meer tips over duurzaamheid? Of liever het laatste duurzame nieuws?
Koop je toch nieuwe producten? Installeer dan TreeClicks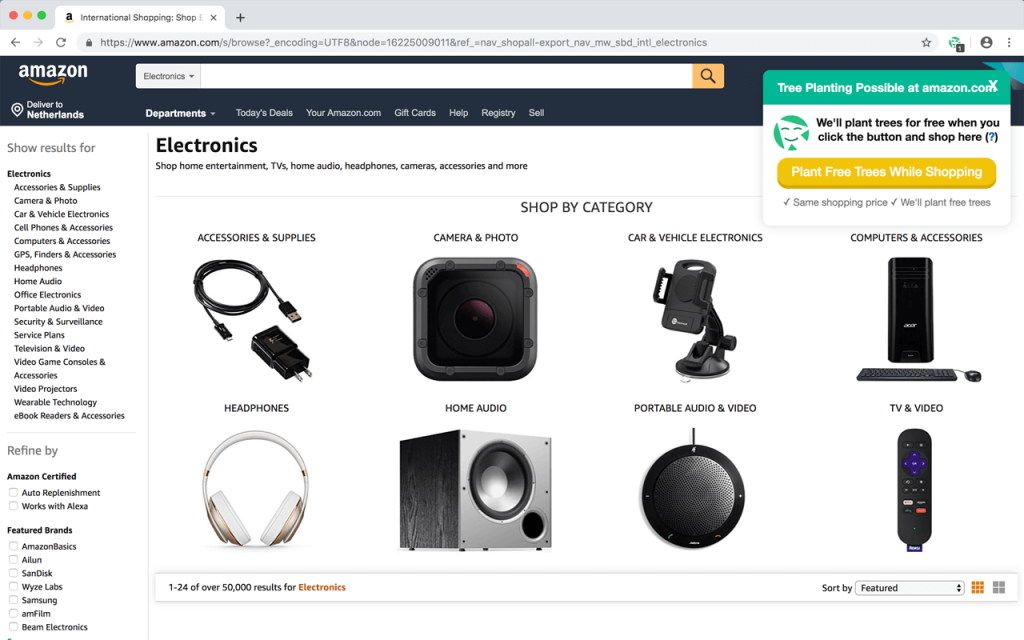 Winkel je toch nog regelmatig online? Installeer dan zeker de TreeClicks browser extensie. Dit is een gratis plugin voor Chrome, Firefox of Edge die bomen plant wanneer jij online shopt bij meer dan 50.000 aangesloten partijen zoals Hema, Amazon en Coolblue.
Als iedereen in Nederland de plugin installeert en gebruikt kunnen ze een gebied herbebossen met de oppervlakte van de provincie Gelderland.
Mocht je dus toch een keer iets minder duurzaams kopen, doe je in ieder geval íets terug. Hopelijk vind je desalniettemin genoeg inspiratie hieronder voor duurzame(re) producten.
Duurzame producten overzicht – vergelijk en shop (of koop het gewoon niet ;-))
Het beste is het om niet te shoppen, maar soms heb je toch iets nodig. Kun je het niet tweedehands vinden of wil je het toch liever nieuw? Dan heb je hopelijk wat aan de onderstaande lijst met iets duurzamere producten: